https://www.youtube.com/watch?v=ogM3S1jimIY
LATAA ITSELLESI HETI TÄMÄ VIDEO!
Tässä dokumenttielokuvassa paljastetaan miten pieni itsekäs ahne psykopaattijoukko on ohjannut maailman menoa nykyhistorian aikana ja miten se on yhä tänäpäivänä poliittisen vallan takana, miten se ohjaa maailmaa ja mikä on sen paha suunnitelma ihmiskunnalle.
KATSO TÄMÄ HETI, NIIN TIEDÄT ENEMMÄN.
Kaiken väärän tiedon, jota levitetään tappavista viruksista joukkotiedotusvälineiden kautta, tarkoituksena on pitää ihmiskunta kontrolloituna ja tietämättömyydessä.
Ebola on USA:n hallituksen vuonna 2010 patentoima virus ja sillä on omistamansa patentin omistusoikeus tämän patentin kautta kaikkiin Ebola-viruksiin. US Centers for Disease Control (CDC) omistaa Ebola patentin.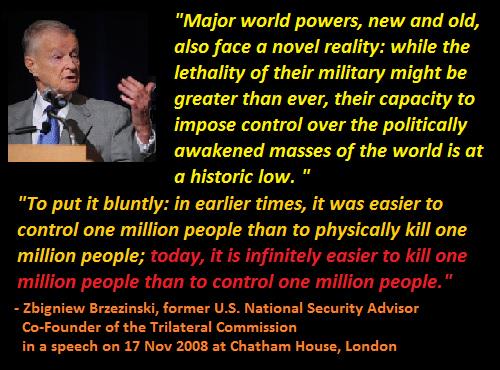 http://www.youtube.com/watch?v=6bPDBND2jL4
AIDS ja Ebola virukset on biologisesti kehitetty USA:n hallituksen laboratorioissa. Ebola patenttiin on USA:lla monopoli, jotta se voi yksinomaan "hyötyä" tästä "keksinnöstä" ja estää muita "hyödyntämästä" tätä "keksintöään". USA saa tästä "EBOLA-keksinnöstä" itselleen kaiken "voiton" ja "hyödyn".
http://www.naturalnews.com/046290_Ebola_patent_vaccines_profit_motive.html
Tohtori Cyril Broderick, liberialainen tiedemies ja entinen kasvitautiopin professori Liberian yliopiston maa- ja metsätalousministeriöstä kertoo lännen, erityisesti Yhdysvaltain, olevan vastuussa Ebola -epidemiasta Länsi-Afrikassa.
"EBOLA-keksinnön yhteenveto"-osassa patenttidokumentti selvästi myös väittää, että USA:n hallituksella on "omistusoikeus" kaikkiin Ebola-viruksiin.
"...invention relates to the isolated EboBun virus that morphologically and phylogenetically relates to known members filoviridae... In another aspect, the invention provides an isolated hEbola EboBun virus comprising a nucleic acid molecule comprising a nucleotide sequence selected from the group consisting of: a) a nucleotide sequence set forth in SEQ ID NO: 1; b) a nucleotide sequence that hybridizes to the sequence set forth in SEQ ID NO: 1 under stringent conditions; and c) a nucleotide sequence that has at least 70%, 75%, 80%, 85%, 90%, 95%, 96%, 97%, 98%, or 99% identity to the SEQ ID NO:
1. In another aspect, the invention provides the complete genomic sequence of the hEbola virus EboBun.
"
Tutkijat väittävät, että tappavat taudit kuten Ebola ja AIDS ovat USA:n hallituksen kehittämiä nanobioaseita, joita on "kokeiltu" afrikkalaisiin​​. HIV-viruksen ja Ebola-viruksen levittämisellä pyritään tappamaan aluksi afrikkalaiset.
Tässä dokumenttielokuvassa paljastetaan miten pieni itsekäs ahne psykopaattijoukko on ohjannut maailman menoa nykyhistorian aikana ja miten se on yhä tänäpäivänä poliittisen vallan takana, miten se ohjaa maailmaa ja mikä on sen paha suunnitelma ihmiskunnalle.
Denverin lentokentällä on esitetty piirroksin suunnitelma ihmiskunnan järjestelmällisestä tappamisesta.
Kuva Denverin lentokentältä, jossa kuva kertoo suunnitelmasta. USA:n hallitus on pyrkinyt tappamaan näillä viruksillaan ensin kaikki afrikkalaiset.
Tetanus vaccines found spiked with sterilization chemical to carry out race-based genocide against Africans
Learn more:
http://www.naturalnews.com/047571_vaccines_sterilization_genocide.html#ixzz3IgRSDk5W
(NaturalNews) Tetanus vaccines given to millions of young women in Kenya have been confirmed by laboratories to contain a sterilization chemical that causes miscarriages, reports the
Kenya Catholic Doctors Association
, a pro-vaccine organization.
https://www.lifesitenews.com/news/a-mass-sterilization-exercise-kenyan-doctors-find-anti-fertility-agent-in-u
http://www.naturalnews.com/041345_cdc_polio_vaccine_sv40.html
http://www.naturalnews.com/047358_ebola_outbreak_human_meat_immune_response.html
http://www.naturalnews.com/029911_vaccines_bill_gates.html
http://www.naturalnews.com/046347_ebola_vaccine_genetically_engineered_virus_depopulation.html
https://www.youtube.com/watch?v=oi1hXM3DYG8
A whopping 2.3 million young girls and women are in the process of being given the vaccine, pushed by UNICEF and the World Health Organization.
"We sent six samples from around Kenya to laboratories in South Africa. They tested positive for the HCG antigen," Dr. Muhame Ngare of the Mercy Medical Centre in Nairobi told
LifeSiteNews
. "They were all laced with HCG."
Chemical causes a woman's body to destroy its own fetus with vaccine-induced antibodies
HCG is a chemical developed by the World Health Organization for sterilization purposes. When injected into the body of a young woman, it causes a pregnancy to be destroyed by the body's own antibody response to the HCG, resulting in a spontaneous abortion. Its effectiveness lasts for years, causing abortions in women up to three years after the injections.
Dr. Ngare explained "...this WHO campaign is not about eradicating neonatal tetanus but a well-coordinated forceful population control mass sterilization exercise using a proven fertility regulating vaccine."
The Kenyan government, of course, insists the vaccine is perfectly safe. Dr. Tabu of Kenya's Health Ministry even told the media that because some young women are still having babies, the vaccine therefore must not contain any sterilization agent. However, this claim belies the fact that HCG doesn't work 100% of the time. It only sterilizes the majority of those injected with it, not all of them.
More importantly, the Kenyan Catholic Church is a pro-vaccine organization. "What reason do the Catholic doctors have for lying?" asked Dr. Ngare as reported in the LifeSiteNews article linked above. "The Catholic Church has been here in Kenya providing health care and vaccinating for 100 years for longer than Kenya has existed as a country."
In other words, the very group exposing the sterilization agenda of the tetanus vaccines is in fact a pro-vaccination group. Yet even they have now come to realize the horrifying truth:
vaccines are the perfect vector for governments to deviously insert covert chemical or viral agents
which are never revealed to the public.
The smoking gun: a five-shot course over two years
What really raised red flags about this so-called tetanus vaccine was the highly unusual inoculation schedule. This vaccine demanded five shots over two years -- a schedule that isn't used for tetanus.
"The only time tetanus vaccine has been given in five doses is when it is used as a carrier in fertility regulating vaccines laced with the pregnancy hormone, Human Chorionic Gonadotropin (HCG) developed by WHO in 1992." explained Dr. Ngare.
Furthermore, the vaccine was only being given to women of child-bearing years, not men or women beyond the age of fertility.
As Dr. Ngare explains, the same vaccine sterilization campaign was used in 1993 in Mexico and both Nicaragua and the Philippines in 1994. WHO attempted to bring it to Kenya in the 1990's, Ngare says, but the effort was stopped by the Catholic Church.
According to Brian Clowes of Human Life International, the United Nations is not refuting the laboratory testing and confirmation of HCG in the vaccines. Instead, it claims some vaccines were "contaminated" in the manufacturing process -- an absurd claim that no reasonable person would believe because HCG should never even be anywhere near a vaccine manufacturing operation unless someone put it there deliberately.
LifeSiteNews reports that it:
has obtained a UN report on an August 1992 meeting at its world headquarters in Geneva of 10 scientists from "Australia, Europe, India and the U.S.A" and 10 "women's health advocates" from around the world, to discuss the use of "fertility regulating vaccines." It describes the "anti-Human Chorionic Gonadotropin vaccine" as the most advanced.
Read the full report from LifeSiteNews at:
http://www.lifesitenews.com/news/a-mass-ster...
https://www.dropbox.com/s/3zq6kmlhp1iubxb/video.wmv
https://www.youtube.com/watch?v=ogM3S1jimIY
United Nations, WHO and UNICEF all engaged in vaccination genocide
You will not see this news reported by any mainstream media outlet in the United States. All truth about vaccines is censored, even if the truth is that the United Nations is deliberately engaged in a campaign of vaccine genocide against people of Africa.
What is happening in Kenya is a crime against humanity, and it is a crime committed with deliberate racial discrimination. Normally, the liberal media in the United States would be all over a story involving racial discrimination and genocide -- or even a single police shooting of a black teenager -- but because this genocide is being committed with vaccines, the entire mainstream media excuses it. Apparently, medical crimes against black people are perfectly acceptable to the liberal media as long as vaccines are used as the weapon.
As this story clearly demonstrates, "vaccine violence" is very real in our world. Vaccines are the perfect weapon for population control for several reasons:
1) Nobody really knows what's in them.
2) They can be easily spiked with hidden chemicals.
3) They can be administered under the cover of "public health."
4) All governments and establishment media will deliberately collaborate with the genocide in order to protect vaccines from being recognized as medical weapons against women.
Thus, vaccines can be routinely used to inject populations with birth control chemicals or even stealth cancer viruses. In fact, this is exactly what happened to as many as 98 million Americans during the mass polio vaccinations of the 1960's and 70's. The CDC even
documented the "accidental" injection of millions of Americans with the cancer-causing SV40 simian virus
, but the agency
scrubbed all that history from its website
in 2013.
In Kenya today, government authorities also claim the sterilization chemical was an "accidental" contamination. That's the excuse that can always be used as a cover story in weaponized vaccination schemes, where governments deliberately taint vaccines with known chemicals that end life, promote cancer or cause spontaneous abortions.
Vaccines as weapons = Medical crimes against humanity
The deliberate adding of HCG to vaccines without full disclosure to the population is a heinous violation of human rights and human dignity. Here are just a few of the crimes now being committed against humanity under the guise of vaccinations:
CRIME #1) No informed consent.
None of these women in Kenya were told the truth that they were being injected with a sterilization chemical designed to cause infertility.
CRIME #2) Race-based genocide.
The targeting of Kenyan women with this vaccine is a deliberate selection based on their race. By any reasonable standard, this would be called a racially-motivated hate crime resulting in genocide.
CRIME #3) The deliberate killing of a human being.
The spontaneous abortions caused by these HCG-spiked vaccines results in the ending of a human life inside the mother's body. These killings take place without the consent or permission of the mother, nor any opportunity for defense of the life of the unborn child.
CRIME #4) Violation of Geneva Convention limitations on medical experimentation.
All these Kenyan women injected with this vaccine are being used as human guinea pigs in a covert, criminal medical experiment. None of these women voluntarily signed up for this medical experiment, nor were they even informed. This is a medical crime against human beings.
CRIME #5) Crimes against women.
Only women were selected for this targeted sterilization vaccine effort, proving that this is not only a race-based crime but also a gender-based crime against women.
If you add all this up, you've got
weaponized vaccines
being
intentionally spiked
with a known sterilization chemical developed by the WHO, then deployed in a racially-motivated genocidal manner that targets women to be used in an illegal medical experiment administered via vaccine inoculations.
When administered via vaccines, genocide and murder are apparently not news
Yet, despite all this, the mainstream media is perfectly okay with this activity. The World Health Organizations endorses it. The United Nations organizes it. Governments help fund it. Vaccine-pushing scientists excuse it. Media outlets cover it up and censor the story, hoping you don't read
Natural News
or
Life Site News
to learn the truth.
When pharmacies in your neighborhood push flu shots and other vaccines, they don't tell you they are part of a branch of medicine steeped in genocide, racially-motivated hate crimes and a medical war on women. They don't tell you that
flu shots still contain toxic mercury at concentrations 100 times the mercury found in ocean fish
. They don't tell you anything about what's in those vaccines for the same reason that women in Kenya are never told what's in them, either.
Vaccines are the perfect weapons against women and children
The truth is that
vaccines are easily deployed as weapons against humanity
under the false cover story that they are saving humanity. What better way to pursue deliberate chemically-induced population control than to convince people they are being injected "for their own good?"
This is precisely why
Bill Gates famously said
:
The world today has 6.8 billion people... that's headed up to about 9 billion. Now if we do a really great job on new vaccines, health care, reproductive health services, we could lower that by perhaps 10 or 15 percent.
Why would Bill Gates be talking about vaccines REDUCING human population if vaccines didn't secretly contain sterilization agents? Remember, Gates is the same person who has funded all sorts of sterilization technologies including one that
blasts men's scrotums with high-intensity sound waves to make them infertile
.
Top tools for human depopulation
Gates is part of a covert medical cabal that believes aggressive human depopulation is urgently necessary to save the planet. This group, which includes many scientists and virologists, believe that the most effective tools for human depopulation are:
1) Vaccines which are covertly spiked with sterilization chemicals.
2) Genetically engineered viruses with a high mortality rate, possibly engineered to target specific races and genetic profiles.
For example, Dr. Charles Arntzen, head of The Biodesign Institute for Infectious Diseases and Vaccinology
recently joked about using an engineered virus to cull the human population
, saying "That's the answer! Go out and use genetic engineering to create a better virus. (laughter) Twenty-five percent of the population is supposed to go in Contagion."
As
I wrote on October 22, 2014
, many virologists believe humans are nothing more than a "parasite" to be consumed by viruses which are the planet's "immune response" to human overpopulation. Here's a passage from the book "The Hot Zone" by Richard Preston, summarizing the way these scientists think:
...the earth is mounting an immune response against the human species. It is beginning to react to the human parasite, the flooding infection of people, the dead spots of concrete all over the planet, the cancerous rot-outs in Europe, Japan and the United States, thick with replicating primates [i.e. humans], the colonies enlarging and spreading and threatening to shock the biosphere with mass extinctions.

Perhaps the biosphere does not "like" the idea of five billion humans. Or it could also be said that the extreme amplification of the human race, which has occurred only in the past hundred years or so, has suddenly produced a very large quantity of meat, which is sitting everywhere in the biosphere and may not be able to defend itself against a life form that might want to consume it...

The earth's immune system, so to speak, has recognized the presence of the human species and is starting to kick in. The earth is attempting to rid itself of an infection by the human parasite.
What's extraordinary in all this -- both with vaccines and viruses engineered as weapons -- is how the most influential people in the scientific community have come to view humanity as an enemy to be destroyed via tools of medicine and science. Frighteningly, modern medical science has the tools to carry out its genocidal assaults on humankind through "accidental" releases of deadly viruses or "accidental" contamination of vaccines with sterilization chemicals.
The evidence of deliberate sterilization chemicals in United Nations vaccines raises the obvious question: Was the recent Ebola outbreak in West Africa also intentional? And what else might scientists, vaccine pushers, world health authorities and governments have in mind for human depopulation in the years ahead?
Is there already something in the food supply that causes sterilization? The answer is a definite YES, and just like the pandemic viruses, it too is genetically engineered.
The five vectors for destroying humanity
These are the vectors for the science-based genocidal assault on humanity:
1) Vaccines
2) Viruses
3) Food
4) Water
5) Chemtrails (i.e. atmospheric deployment of chemicals)
https://www.youtube.com/watch?v=L5is16A8pf
w
https://www.youtube.com/watch?v=v-zRREd8DZQ
https://www.youtube.com/watch?v=baQlv1th7y4
Lähde: http://www.smithsonianmag.com/smart-news/heated-gold-nanoparticles-let-scientists-remote-control-brain-180954789/?no-ist
All five of these vectors present "opportunities" for genocidal scientists to achieve their goal of human sterilization and depopulation. That is precisely why anyone who wishes to survive the great human culling now under way must take extraordinary steps to isolate themselves from institutionally-produced food, water and medicine. The only safe food, water and medicine is that which was produced independently and far outside the control of Big Food, Big Ag and Big Pharma.
Don't drink the city water without filtering it first, and read my laboratory testing results for all popular water filters at
www.WaterFilterLabs.com
Don't eat factory-produced food. Don't allow yourself to be injected with weaponized vaccines. Don't take Big Pharma's deadly medicines. Be smart by being skeptical about the claimed "safety" of all those things created by institutions and authorities that quite literally want to kill off a significant percentage of the existing world population.
If you're smart and resourceful, you might just survive this great human culling. On the other hand, those who anxiously line up to be injected with the seasonal flu shots are all admitting they are too stupid and gullible to last long in a world where "science" has declared a covert war on human life.
Learn more:
http://www.naturalnews.com/047571_vaccines_sterilization_genocide.html#ixzz3IgRghbqA
https://www.youtube.com/watch?v=ogM3S1jimIY
Kuva Denverin lentokentältä, jossa kuva kertoo suunnitelmasta. USA:n hallitus on pyrkinyt tappamaan näillä viruksillaan myös alkuperäiskansat.
USA:n hallitus haluaa tappaa ensin afrikkalaiset ja alkuperäiskansat, mutta se on käynyt tappamaan myös muitakin.
USA:n hallitus on kehittänyt hiv-viruksen ja ebola-viruksen laboratoriossa.
USA:n hallitus on patentoinut sekä hiv-viruksen ja ebola-viruksen, joilla USA on käynyt sotaan ihmiskuntaa vastaan.
Kuva Denverin lentokentältä, jossa kuva kertoo suunnitelmasta. USA:n hallitus haluaa tappaa näillä viruksillaan myös pohjoismaalaiset ja kaikki valkoiset rodut.
https://www.youtube.com/watch?v=ogM3S1jimIY
Scientists allege deadly diseases such as Ebola and AIDS are bio weapons being tested on Africans. Other reports have linked the Ebola virus outbreak to an attempt to reduce Africa's population. Liberia happens to be the continents's fastest growing population.
Miksi Yhdysvaltain hallitus on kehittänyt Ebola-viruksen laboratorioissaan?
Miksi Yhdysvaltain hallitus on

patentoinut tämän Ebola-keksintönsä?
Miksi Yhdysvaltain hallitus

on vaatinut monopolin "keksintöönsä"?
Miksi USA omistaa tämänkin ihmiskunnan tappamiseen kehittämänsä patentin, "jolla" tapetaan ihmiskuntaa parhaillaan?
http://www.youtube.com/watch?v=Vtk_3S33Ag0
Maailman terveysjärjestön eli WHO:n arvion mukaan maailmassa on

monta kymmentä
miljoonaa HIV-tartunnan saanutta. Tilanne on pahin Afrikassa Saharan
eteläpuolella, jossa tartunnan saaneita lasketaan olevan useita miljoonia.
Suomessa lääkärit ovat ilmoittaneet marraskuun 1993 loppuun mennessä 562
HIV-tartuntaa. Näistä neljäsosalla tartunta on kehittynyt AIDS-vaiheen
taudiksi. Suomessa on kuollut AIDS:iin useita satoja.
Siirtykäämme ajassa

yli viisi

kymmentä vuotta taaksepäin. WHO kirjoitti
tiedotuslehdessään "Bulletin of the World Health Organisation" numerossa
47 sivulla 259 vuonna 1972:
"Tulisi tehdä yritys sen toteamiseksi,
voivatko virukset itse asiassa panna liikkelle valikoivia vaikutuksia
vastustuskyvyn toimintaan. Tulisi katsoa sitä mahdollisuutta, että
voitaisiin heikentää vastustuskyvyn reaktiota virukselle, jos tarttuva
virus vahingoittaa enemmän tai vähemmän valikoivasti virukselle
reagoivan solun."
Selvällä suomenkielellä sanottuna WHO kehoitti
kehittämään juuri AIDS:in kaltaisen viruksen!
WHO kertoi lisäksi, että
jos uusi viruksen luomus toimisi, niin monista kauhistuttavista ja
kuolettavista tarttuvista viruksista voitaisiin tehdä jopa vielä
kauhistuttavampia ja pahanlaatuisempia.
Eikös olekin omituista tekstiä
terveysjärjestön kirjoittamaksi?
Ensimmäiset AIDS-tapaukset ilmaantuivat 1970-luvulla ja pian siitä tuli
maailmanlaatuinen ongelma. Asiantuntijat

kertoivat tiedotusvälineissä

, että HIV-tartunta on
peräisin vihreästä apinasta Afrikassa.
AIDS alkoi kuitenkin
samanaikaisesti Yhdysvalloissa, Haitissa, Brasiliassa ja
Keski-Afrikassa, joten tuon vihreän apinan on täytynyt olla
suihkukonelentäjä!
Vihreän apinan solujen geenirakenteen tutkimus onkin
osoittanut, ettei ole geneettisesti mahdollista siirtää AIDS-virusta
luonnollisella tavalla apinoista ihmiseen.
Vuonna 1987 tapahtui suuri paljastus. Arvostettu sanomalehti "London
Times" kirjoitti 11.5. etusivulla:
"Isorokkorokote pani alulle
AIDS-viruksen."
HIV-tartunnat vastasivat täysin WHO:n rokotusohjelmaa
Haitissa, Brasiliassa ja Afrikassa, jossa Zairessa eniten rokotuksia
saaneena oli myös eniten HIV-tartuntoja.
Artikkeli sai alkunsa siitä,
kun WHO itse alkoi epäillä, oliko sen rokotusohjelmalla yhteyttä
AIDS-epidemiaan.
Se vuokrasi ulkopuolisen tutkijan ottamaan asiasta
selvää. Tutkija löysi selvän yhteyden HIV-tartuntojen ja rokotusohjelman
välillä. WHO kuitenkin salasi tutkimusraportin, jolloin tuo tutkija
kääntyi "London Times" -lehden puoleen. Paitsi Lontoossa, sokkiuutinen
joutui täydelliseen uutispimentoon, eikä sitä julkaistu
päätiedotusvälineissä missään muuallapäin maailmaa.
Vaikka "London Times" -lehden artikkeli sanoikin

,

että
isorokkorokotusohjelma laukaisi Afrikassa piilevän taipumuksen saada
AIDS, on myöhemmin todettu, ettei ole minkäänlaista tieteellistä
todistetta siitä, että AIDS-virus olisi ollut Afrikassa ennen WHO:n
rokotusohjelmaa.
Totuuden tuojina AIDS:sta ovat olleet etummaisina
amerikkalaiset lääkärit William Douglass ja Theodore Strecker.
Tri
Streckerin perinpohjaiset tutkimukset osoittivat, että Kansallinen
syöpäinstituutti ja WHO loivat yhteistyössä AIDS-viruksen
laboratorioissaan Fort Detrickissä. AIDS-virus syntyi yhdistämällä kaksi
tappavaa retrovirusta eli lehmissä esiintyvän

leukemiaviruksen (BLV) ja
lampaissa esiintyvän visnaviruksen toisiinsa ja kasvattamalla niitä
sitten ihmisen kudosviljelmässä. Tri Douglass väittää lisäksi, että
HIV-virus ei ole huonosti tarttuva virus. Se voi elää jopa 10 päivää
kuivalla lautasella.
Miksi AIDS on sitten pesiytynyt homoseksuaaleihin? Vanhoista
verinäytetutkimuksista on havaittu, että Yhdysvalloissa ei ollut
olemassa AIDS-virusta ennen vuotta 1978.
AIDS:in äkillinen leviäminen on
osoitettu olevan selvästi yhteydessä homoseksuaaleille annetun
hepatiitti B-rokotusohjelman kanssa. Jostain selittämättömästä syystä
Puolassa syntynyt Venäjällä opiskellut tri W. Szmuness pääsi New Yorkin
veripankin päälliköksi muutettuaan maahan vasta vuonna 1969.
Hän määräsi
säännöt hepatiittirokotetutkimukselle, joissa hyväksyttiin 20-40
vuotiaat mieshenkilöt, jotka EIVÄT olleet yksiavioisia!
Voitko keksiä
tällaiselle vaatimukselle mitään muuta syytä, kuin taudin levittäminen?
Tri Szmuness kuoli myöhemmin vieden salaisuuden mukanaan.
Näin AIDS levisi myös Yhdysvaltoihin. Roy Livesey kirjassaan
"Understanding the New World Order" (Uuden maailmanjärjestyksen
ymmärtäminen) kertoo raportissa vuodelta 1980, jossa Rooman klubin jäsen
ja biologi sanoo eräässä amerikkalaisessa yliopistossa:
"On tärkeää,
että Yhdysvallat vähentää väkilukuaan kahdella kolmasosalla seuraavan 50
vuoden aikana."
Väkiluvun vähennys on siellä tosiaan juuri käynnissä.
Tri Theodore Strecker lähetti kirjeitä muutamiin maailman
arvostetuimmista lääketieteellisistä lehdistä, mutta yksikään ei
julkaissut hänen kirjoitustaan. Esim. Lancet -lehti vastasi hänelle,
että sen kirjeosasto on liian täynnä sinne saapuneita kirjoituksia.
Viime aikoine on kuitenkin ollut maailman lehdissä yksittäisiä
kirjoituksia, joissa asiantuntijat ovat sanoneet, että AIDS on luotu
laboratoriossa.
AIDS:in alkuperästä on saatavana hyvin mielenkiintoinen
video "The Strecker Memorandum", jota voi tilata osoitteesta: The
Strecker Group, 1501 Colorado Blvd, Eagle Rock, CA 90041, USA. Aihetta
valaisee hyvin myös kirja Dr Alan Cantwell: "AIDS And The Doctors of
Death", Aries Rising Press, Los Angeles, USA.
WHO ei varmaankaan myönnä osallisuuttaan AIDS:in levittämisessä. Jo
korvausvaatimukset olisivat liian suuret puhumattakaan
maineen menetyksestä. Vaikka maailman väkiluku onkin laskenut AIDS:in
johdosta, ei maailmaa yhdentävien taustavoimien voida virallisesti
osoittaa olevan AIDS-ongelman takana.
On kuitenkin helppo todeta, että
AIDS:in syntymisessä ja leviämisessä on todella jotain mätää. Sitä
todistavat myös perusteettomien apinateorioiden levittäminen virallisena
totuutena maailman päätiedotusvälineissä, jotka ovat valtaeliitin
kontrollissa. Samanaikaisesti yhteys WHO:n rokotusohjelmaan salataan.
http://www.youtube.com/watch?v=fevYSHQoeD4
The Government Of The United States Of America As Represented By The Secretary, Department Of Health & Human Services, Center For Disease Control
.
"The invention provides the isolated human Ebola (hEbola) viruses denoted as Bundibugyo (EboBun) deposited with the Centers for Disease Control and Prevention ("CDC"; Atlanta, Georgia, United States of America) on November 26, 2007 and accorded an accession number 200706291."
"The present invention is based upon the isolation and identification of a new human Ebola virus species, EboBun. EboBun was isolated from the patients suffering from hemorrhagic fever in a recent outbreak in Uganda."
https://www.lifesitenews.com/news/fbi-interested-in-texas-doomsday-ecologist-who-said-ebola-the-solution-to-h
https://www.youtube.com/watch?v=ogM3S1jimIY
Evidence Mounts: Ebola Made In The USA By Big Pharma & Dept Of Defense?
Sources
claim
the virus was given to civilians through UN
vaccine
programmes with sinister aims
The scientist who recently pointed to evidence that Ebola was created by pharmaceutical corporations at the highest echelons of power was backed up by another expert- who says the outbreak coincides exactly with UN vaccine campaigns in the region.
Dr. Cyril Broderick is a former professor of plant pathology at the University of Liberia's College of Agriculture and Forestry, and is on tenure as an associate at Delaware University. Late last month he wrote an op-ed in the Liberian Daily Observer claiming that the
Ebola virus
currently raging in western Africa is a GMO, made in a lab by western pharmaceutical companies and administered to unsuspecting civilians through U.N vaccination programs. The Washington Post called it a wild conspiracy theory, but is there any basis to these shocking revelations?
The Claims:
1) Ebola is a man-made GMO, created for depopulation of the region, profit for big pharma, and to gain access to the region´s rich mineral wealth (under the guise of military peace-keeping).
2) Testing has been taking place on unsuspecting Africans through various respectable charitable organizations who pretend to be vaccinating against meningitis, polio, cholera, etc
3) Countries involved in this conspiracy against African civilians are the US, Canada, France,and the UK.
4) Organizations implicated are the World Health Organization (WHO), Medecins sin frontiers, UNICEF, US Center for Disease Control (CDC), National Institute of Health (NIH), and The US Army Medical Research Institute of Infectious Diseases (USAMRIID). Links to the Lóreal group, owned by The Rothschilds, and the Bill & Melinda Gates Foundation are also mentioned in depth.
The Accused
In his controversial article, Dr. Broderick made reference to book called Emerging Viruses:
AIDS
and Ebola – Nature,
Accident
or Intentional? (Leonard Horowitz, 1998), stating that the author "confirmed the existence of an American Military-Medical-Industry that conducts biological weapons tests under the guise of administering vaccinations to control diseases and improve the health of black Africans overseas."
In the book mentioned by Dr. Broderick, Dr. Horowitz had indeed unearthed documents about a shocking study in which chimpanzees were
affected
with numerous viruses, used to produce hepatitis B vaccine doses. He asserts that these were administered to central African civilians along with gay men in
New York City
at precisely the time the HIV epidemic ´punctuated event´occurred. A full-length 3 hour video on Dr. Horowitz´s findings can be seen here.
Dr. Broderick also points out that Dr. Horowitz interviewed a Dr. Robert Strecker in the 1970s, and that during this meeting, "mention was made of Fort Detrick,´the Ebola Building´" (Frederick, Maryland) – over thirty years ago. Dr. Broderick´s damning accusations may sound like the ramblings of a lunatic, but unlike most wacky ´conspiracy theories´ on the net, many seem to be rooted in hard fact.
His claims are backed up by Yoichi Shimatsu, a Thailand-based science writer who organized public health seminars by leading microbiologists and herbalists during the SARS outbreak in
Hong Kong
and the avian influenza crisis across Southeast Asia. Shimatsu has also written an article which appeared in the Liberian Daily Observer (the country´s biggest newspaper)- pointing out that the Ebola outbreak coincided exactly with U.N vaccination programs in West Africa, and naming some very high-profile players.
The-Ebola-virus
Shimatsu states: "The earliest breakout in Guinea coincided with three major vaccine campaigns conducted by the World Health Organization (WHO) and the UN children's agency UNICEF. At least two of the vaccination programs were implemented by Medicins Sans Frontieres (MSF, or Doctors Without Borders), while some of those vaccines were produced by Sanofi Pasteur, a French pharmaceutical whose major shareholder is the Rothschild Group."
The plot thickens. Here is what Shimatsu has dug up from his investigations:
• The MSF-WHO project administered the anti-cholera vaccine Shanchol. The drug producer (Shanta Biotechnics in Hyderabad, India) is a wholly owned subsidiary of Sanofi Pasteur based in Lyon, France. Formerly known as Sanofi Aventis, the pharmaceutical is controlled by major shareholders L'Oreal and the Rothschild Group.
• The oral polio vaccine drive funded by UNICEF was based on a pathogen seed strain developed by this Rothschild-owned corporation, which operates the world's largest polio vaccine production facility.
•The meningitis vaccine MenAfrVac was produced by the Serum Institute of India, owned by tycoon Cyrus Poonawalla, under development funding from the Bill and Melinda Gates Foundation. In 2013, a UNICEF drive in Chad with the same drug resulted in 40 child deaths from vaccine-linked symptom. MSF participated in the West African anti-meningitis project.
Dr. Broderick adds some extra names to these institutions and organizations indicted by Shimatsu: The UK's GlaxoSmithKline, a Canadian pharmaceutical company called Tekmira, the US Center for Disease Control (CDC), The US Army Medical Research Institute of Infectious Diseases (USAMRIID), a well-known center for bio-war research, located at Fort Detrick, Maryland, and Tulane University, in New Orleans, USA, "winner of research grants, including a grant of more than $7 million the National Institute of Health (NIH) to fund research with the Lassa viral hemorrhagic fever."
How and Why?
According to Shimatsu: "The reason for suspecting a vaccine campaign rather than an individual carrier is due to the fact that the Ebola contagion did not start at a single geographic center and then spread outward along the roads. Instead, simultaneous outbreaks of multiple cases occurred in widely separated parts of rural Guinea, indicating a highly organized effort to infect residents in different locations in the same time-frame…The simultaneous eruptions of this filovirus virus in widely separated zones strongly suggests that the virulent Zaire ebola strain (ZEBOV) was deliberately introduced to test an antidote in secret trials on unsuspecting humans."
Shimatsu believes that the escape of Ebola from Guinea into neighboring
Sierra
Leone and Liberia indicates something went terribly wrong during the illegal clinical trials by a major pharmaceutical company. "Through the lens darkly, the release of Ebola may well have been an act of biowarfare in the post-colonial struggle to control mineral-rich West Africa," he writes.
"The Guinea outbreak was not reported by WHO until
6 weeks
after the initial round of infections in February, which is quite odd considering the armies of medical workers afield in the countryside during those three vaccine campaigns," Shimatsu states. "Despite assurances from WHO and CDC that ebola is not transmitted through water or air, more than 100 nurses and doctors, including Sierra Leone's top ebola expert, have died so far. Misinformation about ebola transmission is inexcusable when the 1995 Zaire outbreak was first spread by the washing of corpses."
Shimatsu doesn´t claim that healthcare workers within these organizations are aware of this dark plot- of course they are not- but he does make some very shady connections:
•In 2008, the Rothschild-connected Sanofi Pasteur corp was accused of conducting secret trials of an untested H5N1 vaccine on 350 homeless people in Poland, killing at least 21 and causing the hospitalization of 200 others.
•This is the world's third-largest pharmaceutical, under CEO Serge Weinberg. Weinberg scored a coup in wooing his new chief scientist Gary Nabel from his position as head of viral immunology research at the National Institutes of Health (NIH).
•Sanofi is a partner company of Sutro Biopharma based in San Francisco. Sutro´s CEO is John
Freund
, a former Morgan Stanley executive.
•There are two potential cures for Ebola issued by biotech companies ZMapp and Tekmira. "Whichever company gains approval from an FDA, ready to overlook the possibility of driving mutations, will be sure to win huge supplier contracts from the WHO and the US Department of Defense", Shimatsu writes. "The dark horse in the foot race to profit from the Ebola panic is Sanofi Pasteur. ."
But, says Shimatsu, it´s not all about profit- it´s also about stealing mineral wealth and gaining control of a country gripped by fear and desperation. "After rural West Africans realized that vaccination programs coincided with the outbreak of Zaire Ebola, foreign-funded medical staffers were assaulted by angry mobs and an Ebola treatment center in Sierra Leone was burned to the ground. When medicine is exposed to be the problem and not a solution, the military has to be called in to quell public rebellion," he explains. "Ebola detonated fear and loathing, and perhaps that is exactly the intended objective of a destabilization strategy."
Not only that, but public anxiety fuelled by hysterical fear-mongering in the media is providing a very convenient excuse for right-wing governments (especially those in Western Europe) to crack down on immigration, stop flights and increase airport security in the name of the Ebola pandemic. Despite terrifying headlines, only a handful of westerners have contracted the disease – as a side note, isn´t it bizarre that a Spanish nurse had a chance of survival, while there´s no cure for Africans left to die in horrendous circumstances?
If Dr Broderick, Dr Horowitz and Shimatsu´s research proves correct, then this could be the most heinous crime in the history of humanity. It also means that Ebola screening at airports, military presence in Africa, and tougher legislation on immigration could be nothing more than a convenient reason to further destroy our civil liberties in the name of security- and cause more division, fear and hatred between different nations and ethnic groups.
http://rense.com/general96/ebobreakout.html
Tämän USA:n omistaman patentin numero on CA2741523A1 ja katseltavissa alla olevasta linkistä.
http://www.google.com/patents/CA2741523A1
http://www.liberianobserver.com/security/ebola-aids-manufactured-western-pharmaceuticals-us-dod
Julkaisun numero
CA2741523 A1
Julkaisutyyppi
Hakemus
Hakemusnumero
CA 2741523
PCT-numero
PCT/US2009/062079
Julkaisupäivämäärä
29. huhtikuu 2010
Hakemuksen jättöpäivä
26. lokakuu 2009
Etuoikeuspäivä
24. lokakuu 2008
Julkaistu lisäksi otsikolla
EP2350270A2,

EP2350270A4,US20120251502,

WO2010048615A2,WO2010048615A3,

Vähemmän «
Keksijät
Jonathan S. Towner,

Stuart T. Nichol,

James A. Comer,

Thomas G. Ksiazek,

Pierre E. Rollin,

Vähemmän «
Hakija
Jonathan S. Towner,

Stuart T. Nichol,

James A. Comer,

Thomas G. Ksiazek,

Pierre E. Rollin,

The Government Of The United States Of America As Represented By The Sec Retary, Department Of Health & Human Services, Center For Disease Contro,Vähemmän «
Vie sitaatti
BiBTeX,

EndNote,

RefMan
Luokittelu

(21),

Oikeudelliset tapahtumat

(1)



Ulkoiset linkit:

CIPO,

Espacenet